10 of the Least Practical Swimsuits
Aaah, the warm weather and waves are calling, but before you can relax and enjoy them, you have to get through that most dreaded task of the year - swimsuit shopping. You know the drill: try on hundreds of styles, colors and sizes until you finally find one that doesn't make you cringe in those awful 360° dressing room mirrors. I know there is the perfect suit out there for everyone, but there are also some perfectly awful ones, or at least some that are not very practical as actual beachwear. Here are a few tips on what to avoid.
1. Basic Math 101


Okay, if you're looking to get noticed, this caged monokini ($65) from AMI Clubwear  may be the suit for you. But really - think of the tan lines! Unless you want to look like someone's geometry test when you take it off, I'd reconsider this one.
2. Shredded Bliss

And speaking of tan lines, the jersey shreds on this Lisa Maree swimsuit ($220,Shopbop) would leave quite an interesting pattern on your skin. Looks like she narrowly escaped her date with Freddy Kruger before heading to the pool.
3. The Goodyear What?


This Mikoh Byron Bay rubberized neoprene bikini ($170, Porter-Fashion) won't leave strange tan lines, but honestly, is black rubber what you really want to wear while baking in the sun?
4. Holy Smokes, Batman!


This Batman cape suit ($105, Black Milk Clothing) is actually really cute if you enjoy being in the spotlight (or bat signal). I would just recommend leaving the cape at home; otherwise, you might be constantly called upon to save the citizens of Gotham from drowning and sunburn.
5. On the Fringe


Oh my. You'd be taking enough of a risk in this ombré fringed bikini ($33 & $25, ASOS) of being mistaken for a bird with alopecia; I'd hate to think what it would look like if it actually got wet.
6. Summertime Blues
Yes, it's a denim swimsuit ($265, Prism St. Barts). Because we all know how good wet jeans feel, right?
7. A Dazzling Doily


Those gals over at AMI Clubwear really don't seem to worry about tan lines. Browse the site for literally hundreds of oddly strapped, strung and cut-out options. This crocheted two-piece ($75) gives string bikini a whole new meaning, but I'm not sure how it will hold up in the water.
8. Through the Eyes of Love


This Norma Kamali embellished swimsuit ($400, The Outnet) is perfect if you're auditioning for a remake of Ice Castles. For a day at the pool? Not so much.
9. Oh, You Said 'Bondi' Beach


This Plein Sud strappy one-piece ($297.50, Farfetch) looks like it came from the Fifty Shades wardrobe department. And where exactly are the ta-tas supposed to go?
10. Peace Out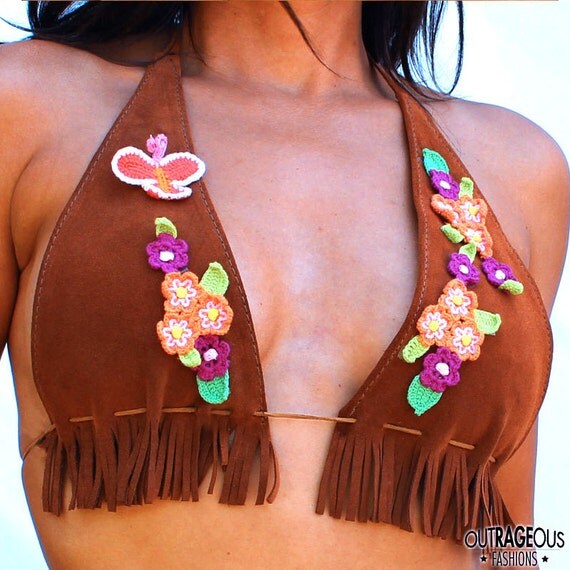 So, Rippette van Winkle, you say you fell asleep sunbathing back in the 60s and woke up 50 years later? This OOAK suede and embroidered bikini top ($48, Etsy) is very hippie-chic, but it's clearly labeled 'non-washable,' so obviously not made for swimming.
If you're looking for a suit that you can actually safely swim and sunbathe in, head over to Lands' End for a variety of more traditional mix and match styles.
Photo Credit, Featured Image; Photo Credit, Image 6